ST. PAUL, Minn. – Despite millions spent on computers for students in Minnesota schools, the technology isn't improving student test scores and some are questioning whether they're more trouble than they're worth.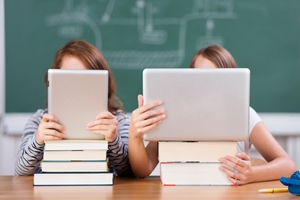 The Pioneer Press analyzed test results from numerous Twin Cities school districts that have issued laptops or tablets to students and found there's little in the way of academic improvement to show for it.
According to the news site:
Last school year, east metro districts spent more than $17 million on student technology.
The biggest bills were in the largest districts. St. Paul spent $9 million, and Rosemount-Apple Valley-Eagan spent about $2.7 million. Smaller districts where students share devices had significantly lower bills, such as the $250,000 student technology budget in the North St. Paul-Maplewood-Oakdale district.
Meanwhile, student scores on the Minnesota Comprehensive Assessments, or MCAs, which are given each year in English, mathematics and science, have largely remained stagnant.
The test results also showed that the school issued computers have made little to no impact on closing the achievement gap between white and minority students. In many school districts, officials justify the purchase of computers for all students as a civil rights issue – a way to balance the alleged advantages of more affluent students with their low income peers who do not have devices at home.
Several school districts that purchased iPads or computers for all students have also faced a myriad of issues, like students destroying the devices, circumventing firewalls to access inappropriate websites, the high cost of educational software, administrators and technology companies spying on students with the machines, and others, EAGnewsreports.
St. Paul Public Schools assistant superintendent Hans Ott claims students and teachers are still getting acclimated to iPads distributed to students in 2014, and believes academic gains will come in time.
"We knew this process was going to take time at this scale. We knew it was going to be a heavy lift," he said. "Now we are really digging into the academic phase."
Others, like Farmington schools superintendent Jay Haugen argue that the benefits of iPads doled out to students in his district can't be measured by student performance on the MCAs.
"It keeps enhancing and changing what we can do," Haugen said.
"Why is everything based on test scores?" he questioned. "The whole idea is having students who are finding their spark and their passion and creating their own learning pathways."
Some teachers, however, contend students are also finding ways to distract themselves in class, and are getting burned out by constantly referencing online materials.
"I have kids who are watching Netflix while I teach," White Bear Lake Area High School language arts teacher Ben Kirkham told the Press.
"It is hard to say if it is inherently bad or inherently good," he said. "(The devices) are useful, but they are not making students better students."
Kirkham contends some teachers at his school are turning to "WiFi-free Wednesdays" to give students a break from staring at computer screens, and they're finding many students look forward to the reprieve.
"Kids really prefer writing on paper these days. They also prefer holding a book in their hands rather than reading a PDF file," he said. "I have kids who groan when I tell them everything is available online."